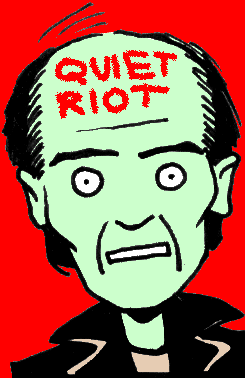 I hate to completely change gears from oldestgenxer's previous post, which had a much more somber note. In fact, at some point I'd like to add my two cents to it and kind of explain my own recent bout of melancholy that has prevented me from posting on my own website.

But now, we have more important matters to discuss...

So. Labor Day weekend. September 3, 4, and 5. What are you doing? Think long and hard about it. Now forget what you just thought about, because you have new plans now. You must go to Carbondale on Friday, September 3, to see Fragile! And then, you must head north up 51 to Beecher City on Saturday, September 4, for Barnfest! It will be 2 days of good music, good camping, and good company. There will be a whole slew of bands there, including NIL8, the Pimps, Lidlifter, and our good frined Steve Crosby's band Hot Iron Skillet. A full list of bands and more info can be found Here.

It'll be a blast. I promise. You don't have any excuse. Not even you, OGX. I know my dad's having a cookout at the lake that weekend. But I don't care!!! It's all about the music, man. Ride the Lightning!

Actually, I may stop off at dad's for a while on Saturday to say hi, but I cannot deny the primal call of the rock!

Woo-hoo!